Brie En Croute Stuffed With Olives & Roasted Peppers
Luschka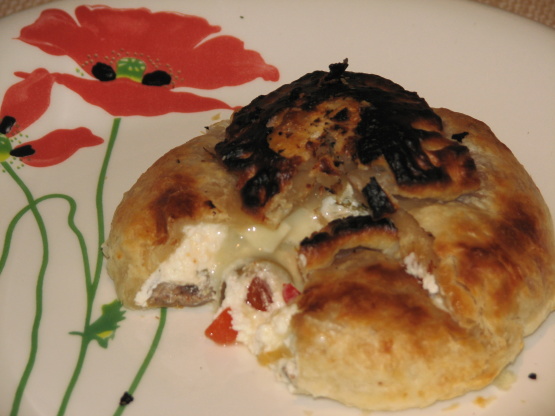 My personal favourite appetizer...easy to vary fillings ...for a sweet or savoury treat from Enchanted Evenings by John Hadamuscin...

This is really really good! I absolutely love how simple, elegant and tasty this is! I used goats cheese as I couldn't find brie but it was spectacular. These would be excellent as single parcels for individuals (by cutting the cheese into smaller bits as it melts anyway) or one large one for everyone to take a piece from. Certainly one of my favourites. Reviewed for Phototag Winter 08
4

ounces brie round, chilled
1⁄2 small roasted red pepper, peeled, seeded and coarsely chopped

2

tablespoons black olives, ripe and coarsely chopped
1⁄4 lb frozen puff pastry, thawed (1/2 sheet)

1

egg yolk, large mixed with

1

tablespoon water
Slice brie in half, horizontally.
Scatter the pepper and olives over the bottom half of brie and cover with top half.
set aside.
Roll pastry into a 12" circle.
Trim the edges.
Place brie in the center of pastry and lift the pastry edges to cover completely.
Gather the pastry in the center and tie with kitchen string.
Arrange the pastry edges attractively on top of brie.
Wrap in plastic wrap and refrigerate until needed.
About 45 minutes before serving, remove plastic from brie, place on a lightly greased baking sheet and allow pastry to come to room temperature.
Brush with beaten egg.
Preheat oven to 400 degrees.
Bake 30- 35 minutes.
Remove and cool on wire rack for 10 minutes before you serve.
To serve slice into small wedges with fruit slices, baugettes or nice crackers.
-- Variations--
(sun dried tomatoes in oil, asiago or pecorino romano) (prosciutto and mushrooms) (roasted chopped almonds, pecans, or walnuts, apples or pears with sugar and cinnamon).