Brie Cheese, Grape and Pepperoni Puff Appy
twissis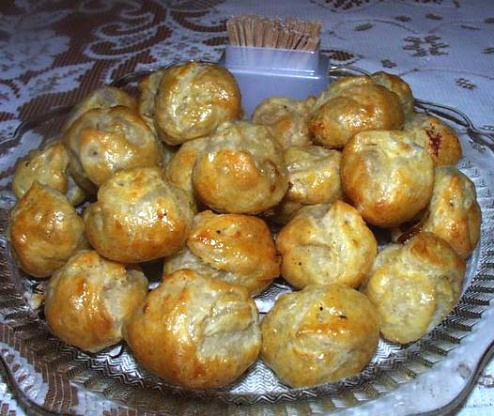 Found in THE BEST OF COOKING by Arne Kruger & Annette Wolter, this recipe is a great appy to fix for a crowd. Even using puff pastry (which I find challenging), these are a snap to fix, can be prepared ahead, can be served warm or at room temp *AND* they are pretty to look at + yummy to eat! *Enjoy* (Edited to Add: Pls see Prep Notes added after these were made & after 1st review)

This was an odd combo and was not popular at the party I took them to. They were pretty though.
1

lb frozen puff pastry

2

eggs

2

tablespoons water
1⁄2 teaspoon paprika
1⁄4 teaspoon black pepper

8

ounces brie cheese (trimmed of rind & cut into sml cubes)

18 -20

seedless grapes (halved lengthwise & may use green, red or a mix of grapes)

36 -40

pepperoni slices (smallest size & thinly sliced)

36 -40

wooden toothpicks (soaked in water for 30 min)
Preheat oven to 400°F (180°C).
Defrost puff pastry. Roll out on a floured surface to a 1/8-in thick rectangle & cut into 2-in squares.
Whisk eggs w/water, paprika + pepper & use a pastry brush to brush the surface of the squares.
Place 1 slice of pepperoni, a sml cube of cheese & 1/2 grape in the center of ea pastry square. Bring the corners inward to form envelopes & secure each w/1 of the soaked wooden toothpicks.
Brush the surface of the envelopes w/the rest of the egg mixture, place on a greased baking tray & bake for 15 min or till lightly browned.
Allow to cool slightly, remove toothpicks & serve warm or allow to cool to room temp & serve.
NOTE #1 - There was some leakage of cheese w/my trial batch, but it mostly disappeared in the 2nd batch by inserting the toothpick till it "grabs" the grape, not all the way thru the puffs. The toothpicks work great here to allow for consistently shaped puffs & easy handling! :-).
NOTE #2 (Added after 1st review) I made 1 chg to the orig recipe & now believe it was an error on my part as it left out a main source of flavor. I have corrected for that by adding back the pepperoni slices now in the ingredients & prep.