Swirling F.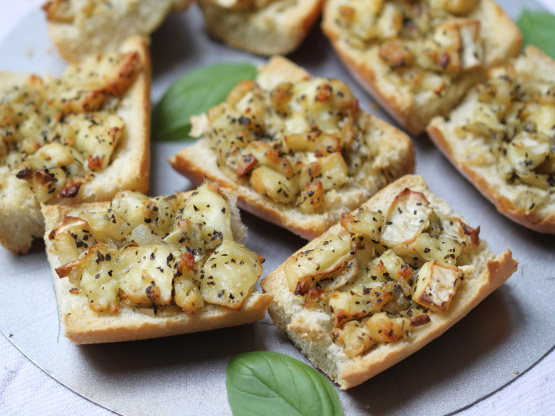 This is an outstanding addition to your Tapa Table and so easy to make. I received this recipe from my friend Pat who I had met in Sint Maarten.

Wow, this recipe was great!! I did not have any basil, so I used dried parsley. I did not have 6oz of brie, so I put 1/4 cup mozzarella cheese and about 2-3 oz of cream cheese in the pan. I mixed and melted. The butter did not mix well with the cheese. I put the mixture on the french bread and broiled it. It still turned out wonderful. Thanks!
Melt the butter in a sauce pan and onion and basil.
Cut the Brie into small pieces and add to the butter mixture.
Stir until the Brie is melted.
Slice the French Bread in half lengthwise.
Take each half and cut ALMOST all the way through into slices about 1 1/2 inches each.
Spread the melted brie mixture over each half of the loaf.
Note: At this point you can refrigerate the bread/brie and continue just before serving.
Place each half of the under the broiler until the cheese is bubbly.
Tear the individual pieces completely off the loaves and place on serving platter.