Brie, Avocado and Mustard Melts
Bergy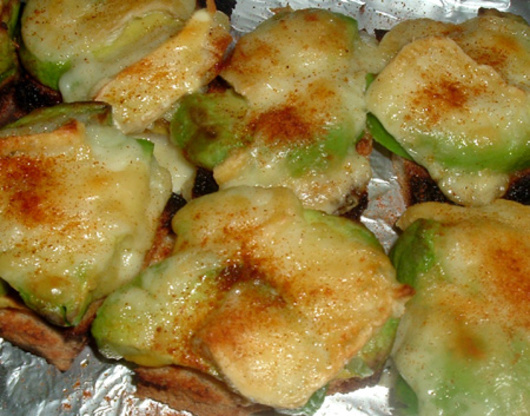 I was scrounging around in the fridge, looking for something interesting to make lunch one Saturday. I found a VERY ripe avocado, some left-over brie and a bit of mustard........put them together, grilled them and was surprised at the gourmet result of a lunch made from leftovers!

So quick, simple & tasty.
1

ripe avocado

60

g brie cheese (about half a small round)

2

tablespoons of mild mustard

4

slices bread, of your choice
salt, to taste
pepper, to taste
Turn on oven grill element/broiler.
Cut avocado in half.
Slice brie into thin slices.
When grill /broiler is heated, place bread under and toast one side.
Turn bread over and grill/broil until other side is just beginning to toast.
Take bread out and spread lightly toasted side thinly with mustard.
Spread 1/4 avocado flesh onto each slice of bread - it will be thick, but that's OK!
Cover all the bread with avocado, so it doesn't burn when it goes back under the grill/broiler.
Season with salt, pepper or other seasonings to taste.
Arrange brie slices over avocado.
Put back under grill/broiler until brie is melting and has started to brown (unti I made this, I didn't know brie COULD brown!).
Serve at once, while hot.