Leslie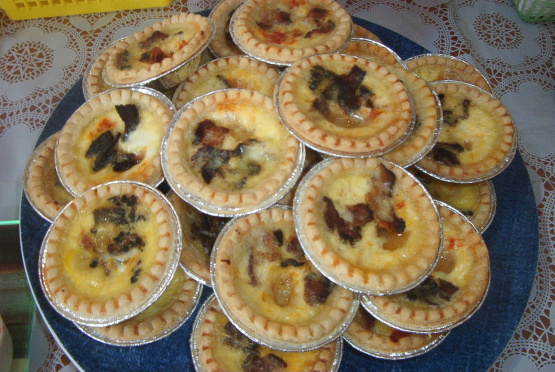 A yummy addition to any appetizer tray!

Using prepared tart shells certainly make this an easy appetizer - as a bonus, they're quite tasty! Thanx Irmgard!
30

prepared tart shells, 3-inch size

2

tablespoons butter

1

cup sweet red pepper, finely chopped

5

ounces brie cheese, rind removed and cut into cubes

10

slices bacon, cooked and crumbled

3

eggs
1 1⁄3 cups whipping cream

1

dash cayenne pepper
Partially prebake tart shells according to package directions at 375 degrees F for 10 minutes; let cool.
In a skillet, melt the butter; saute the red peppers until softened.
Spoon into the tart shells; top with a cube of cheese, then some of the crumbled bacon.
In a bowl, beat together the eggs and cream; season with cayenne and salt to taste.
Pour over the mixture in the tart shells; bake at 350 degrees F for 10 to 15 minutes or until the filling is firm.
Serve immediately or freeze in an airtight container for future use.
To reheat frozen tarts, bake at 350 degrees F for 10 minutes.