Brie and Dried Cranberry Quesadillas
flower7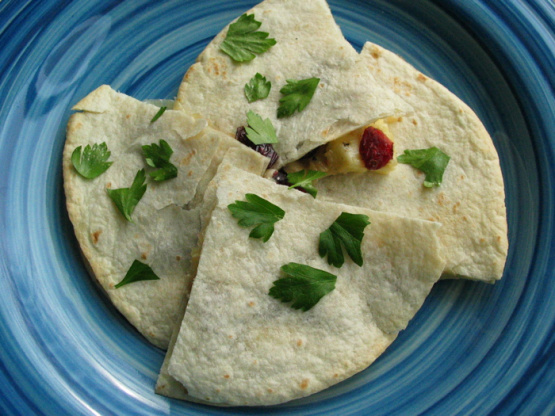 A good snack or party appetizer. From Vegetarian Times November/December 2005.

I made one of these quesadillas today as part of my lunch. The taste is really good but I had a bit of trouble with the cutting and serving. The tortillas got so crispy at the high oven temp that they were basically crackers (particularly on the edges) so fell into crumbles when I cut them. Since I still have more of the ingredients I'm going to try again tomorrow with either a lower oven temp or in a non-stick skillet on the stove top and see if I can do any better. There's definitely promise there with the taste! [Made for Let's P-A-R-T-Y!] -Dec. 11, 2011. Update: I tried this again today with the leftover ingredients and baked at 350* instead (same length of time) - came out much better (as the photo shows!) :)
NOTE: You could also substitute corn tortillas for the wheat tortillas.
Preheat oven to 425 degrees.
In skillet over medium heat, cook the onion in the olive oil for about 5 minutes or until soft and browned. Stir often.
Set onions aside in small bowl to cool.
Arrange four (or 8 small) tortillas on a large baking sheet. Divide the Brie cheese and sauteed onions among the tortillas. Sprinkle with cranberries and garnish with black pepper then place the other tortillas on top, pressing down gently but firmly.
Bake for approximately 8 minutes or until the Brie melts.
Cut each tortilla into 6 wedges (if using small tortillas cut in half) and serve warm.
Garnish with cilantro leaves if desired.