Brie and Cheddar Souffle'
twissis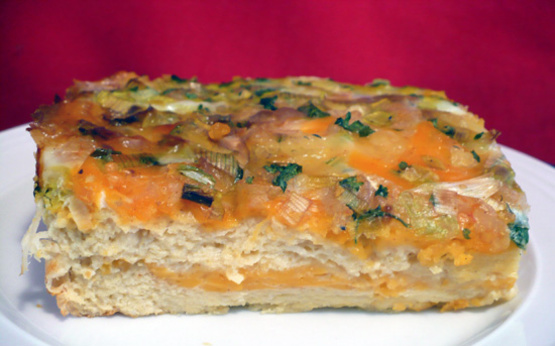 We really enjoyed this dish for our Christmas brunch, but it would be fabulous at any time of the year. I am not sure where I got this recipe, but I suspect it is one of Lucy Waverman's. This is the preamble to the recipe, "...my most requested brunch recipe. Challah, brioche, of even plain white bread will work well if the bread is thinly sliced. You can also add layers of cooked vegetables such as asparagus, spinach or mushrooms". I prepared half the recipe the day before Christmas to serve 4 people, and it was so easy to bake it off as we opened presents. Cooking time does not include the passive time when made ahead.

This was excellent ~ very easy to fix & yummy good! I made a half recipe, subbing leek for the green onion as they are not easy to find here. Mine was done at 55 min, but I did have to tent it w/foil at 45 min because it seemed to be browning faster than the center was cooking. I think using cream would be overkill as this is rich from the cheese & has perfect texture just using milk, This dish works for a breakfast, brunch. luncheon, meatless main course & can be expanded to a 1-dish meal w/adds ~ so it gets high marks from me for versatility. In my mind, it has endless options. Thx for sharing this recipe w/us. We loved it!
Line the bottom of a large buttered baking dish with a single layer of bread. Sprinkle half the Brie and Cheddar over the bread. Cover the cheese with a second layer of bread and sprinkle with remaining cheese.
Whisk together eggs, milk, green onions, parsley, mustard, paprika and hot pepper flakes. Season well with salt and pepper. Pour over bread layer. Refrigerate for at least 4 hours or overnight. Remove dish one hour before baking to bring it to room temperature.
Preheat oven to 350°F
Bake for 45 to 60 minutes, or until puffy and golden. Let sit for 10 minutes before serving.