Bridget's Italian Wedding Soup
Bergy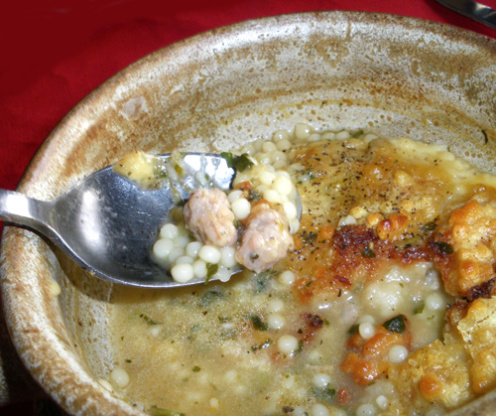 A wonderful recipe for a quick favorite. This recipe takes very little time to make and the results are fantastic.

Italian Wedding Soup is one of my all time favorites, this recipe is outstanding, the flavor of the meatballs is really quite nice, I'm going to use that meatball recipe for all meatballs I make from now on.
Combine first eight ingredients.
Form into LITTLE meatballs (there will be a lot of them).
Fry in batches in the pot you will be preparing the soup.
When all the meatballs are fried remove from the pot and add the chicken broth.
Scrape any brown bits from the bottom of the pot.
Add the meatballs, spinach, pasta, and carrots to the broth.
Bring to a boil.
Cook till the meatballs are done and sp is the pasta.
ENJOY, ENJOY!