Bria's No-Bake Oreo Mousse Pie
MrsBritt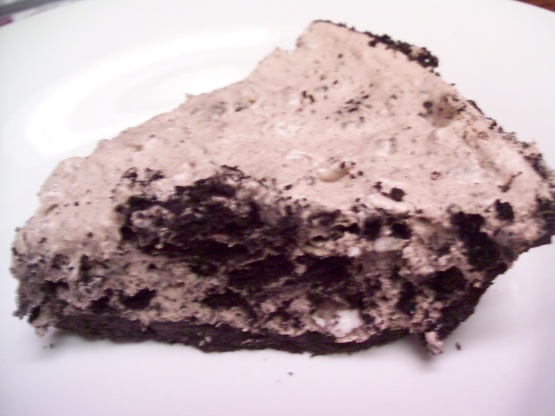 This is the recipe that my nephews request for their birthday every year, and it never lasts long. What's really sinful about it is how absurdly easy it is to make! I know there's a boxed oreo pie out there, but it's NOTHING compared to this pie. Prep time does not include sitting overnight. Don't skip out on the refrigerating overnight, though- it's worth it! This is one of my favorite recipes. Make sure to buy the "Whipped cream cheese" It makes a BIG difference!
1⁄2 lb crushed Oreo cookies

8

ounces whipped cream cheese, softened
3⁄4 cup milk

2

tablespoons Hershey's syrup, and more to drizzle
1⁄4 cup powdered sugar
1⁄2 cup instant chocolate pudding mix, dry

9

ounces whipped topping

2

Oreo cookie pie crusts (Store bought)
In large bowl, combine cream cheese and instant pudding with beater until smooth.
Add powdered sugar, hersheys, and milk, mix.
Fold in whipped topping.
Add oreo cookie crumbs and mix well.
Pour into pie shells.
Refrigerate overnight but at LEAST 6 hours.
Use hershey's syrup in a crosswise motion to decorate top of pie.