Brian's Spicy Kung Pao Tofu Stir Fry
kbatalvi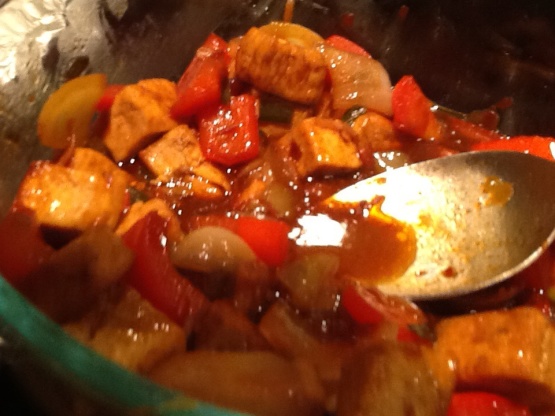 Spicy tofu stir fry dish. You can replace the tofu with chicken for a standard Kung Pao chicken dish. Great leftovers dish too.

This is so delicious! I have made it three times, which minor variations each time depending on what I did/didn't have in the cupboard e.g. substituting apple cider vinegar for rice vinegar, using 1 cup total of regular soy sauce instead of 1.5 cups combined of the 3 different types listed in the recipe. You can use different veggies as well, depending on what you have, and I'm not so keen on cooked celery so I tend to leave that out. Each time it has worked out great, whichever minor changes I have made. I also add a bit of cornstarch at the end to thicken up the sauce. Using quantities given, I end up with enough sauce for 2 batches of stir fry and that's fine by me as it is delicious and was an instant favourite from the first bite.
Kung Pao Sauce

1

cup hoisin sauce
1⁄2 cup low sodium soy sauce
1⁄2 cup soy sauce, regular

1

tablespoon hot chili paste (or to taste)

1

tablespoon sesame oil
1⁄2 cup rice wine vinegar
1⁄4 cup premium grade sweet soy sauce

1

tablespoon hot pepper flakes, dried

1

teaspoon powdered ginger

Stir fry

2

tablespoons sesame oil

2

cups lightly fried tofu, cubed

1

cup carrot, cubed
1⁄2 cup onion, diced

2

scallions, thinly sliced

3

garlic cloves, crushed

2

tablespoons fresh ginger, finely julienned

1

cup green zucchini, diced

1

cup yellow squash, diced
1⁄2 cup cremini mushroom, sliced

1

cup celery, chopped

6

ounces water chestnuts, diced

6

whole dried Thai chiles
1⁄2 cup cashews, chopped

6

cups steamed rice
Whisk together ingredients for sauce into a bowl and set aside.
In wok, add oil and lightly fry cubed tofu for about 3 minutes, continually tossing. Set aside.
Add carrots to wok and cook on med. high heat for 3 minutes. Add onion, scallions, garlic and ginger. Cook for about 2 minutes and then add remaining vegetables, water chestnuts, chilis. Continue cooking for additional 2 minutes until vegetables are soft.
Add tofu back into stir fry.
Pour sauce over to coat stir fry, may not need all sauce.
Cook until sauce is reduced to desired consistency.
Spoon stir fry over 1 cup of steamed rice and garnish with chopped cashews.