Briami (Greek Oven-Roasted Vegetables)
CoffeeB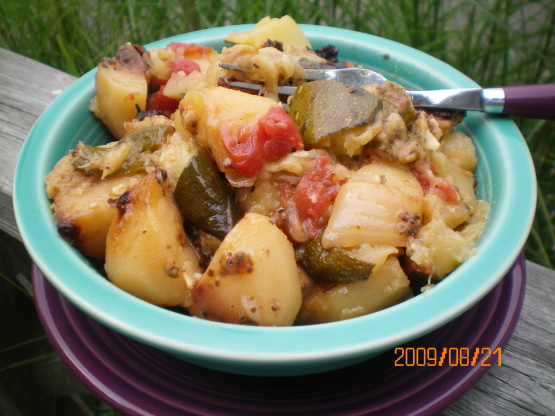 A traditional Greek vegetarian dish. Delicious and easy. Great to do when you have a bumper crop of zucchini on hand. Olive oil adds a great flavour element to the dish, and also adds extra calories as Briami is considered a 'main dish' here in Greece. If you choose to serve it as a side, you can cut back some on the olive oil. The servings specified are considering it as a vegetarian main dish. If you're having it as a side, either cut back, or plan on getting more servings out of it.

Well, this was a masterpiece. Everyone was very impressed when this appeared on the table this Thanksgiving. We are vegetarian, and I searched all over for a veggie main dish. This was a really big hit. Thanks for this recommendation! Fantastic blend of flavors. I did leave out the tomatoes, simply because I'd added everything else and didn't see how they would fit!! I will make this many times. Thank you!! UPDATE! I've made this many, many times since Thanksgiving and have started to play around with it some. Tonight (see picture) I used sweet potatoes and added halved big button mushrooms. Also added a few leeks I needed to use up. Also, instead of just zucchini, I used some yellow squash. TERRIFIC recipe, I can't recommend this enough! I felt so sick today and this was all that sounded good to me---such a healthy, healing meal!
5

large zucchini, washed and scrubbed and cut crosswise into 1/4 inch thick slices

4

large potatoes, peeled and cut crosswise into 1/4 inch thick slices

3-4

garlic cloves, sliced thin

1

large onion, peeled, cut in half, each half cut into thirds, large wedges (Spanish or Bermuda)

2

large tomatoes, peeled and quartered

113.39

g hard cheese, cut into large chunks (I use 'kefalograviera or 'myzithra' which you may not have, something like Parmesan would be excelle)

118.29

ml olive oil

59.14

ml water

14.79

ml oregano

29.58

ml fresh spearmint, minced (or 1 tsp dry)

29.58

ml cut cilantro (optional)
salt and pepper
Preheat oven to 420 degrees F.
Put everything in a very large baking pan. Pour water, olive oil on top and add herbs. Season generously.
Put your clean hands in the pan and give all the veggies a toss so herbs, and oil and salt and pepper go on everything.
It looks like a lot but don't worry - it'll 'melt' down considerably during cooking.
Roast for a couple of hours, stirring everthing up a couple of times to allow veggies on bottom to come up and brown nicely too. What you're after in terms of texture is for the vegetables to 'melt' into each other, but without losing their individual shape. NOTHING crisp-tender going on here - just meltingly, comfortingly, deliciously tender.
This is delicious with good crusty bread (lovely juices) and feta cheese on the side- like we eat it.
Will probably serve 6 hungry people, or maybe not. We go through it fast. It's even better the next day.