teresas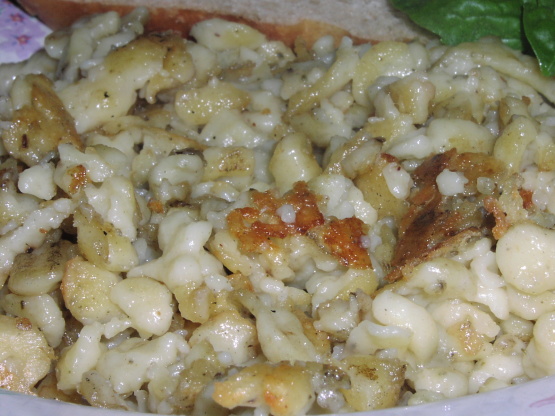 A Spaetzle version with Beer. Adapted from Perfect Pear Cafe.

What a wonderful spaetzle dish...I've made lots of spaetzle ...and this one won't disappoint you...I normally make mine with milk...I just know someone was out of milk and said..."we have lots of beer"...and that's how this came to life...I love the garlic and other spices...not what I would use in my spaetzle but was a nice addition...I fried mine in butter instead of olive oil...I love fried spaetzle...I served it with recipe #416566 this made at least 3 hardy servings...Made for Spring 2014 PAC...=)
2

eggs

2

egg yolks

1

teaspoon sage

1

pinch nutmeg

5

ounces beer (Munich Dunkel would be nice)

1

teaspoon minced garlic
salt and pepper

2

cups flour
Saute garlic in oil.
Mix eggs, yolks, nutmeg, and beer* until blended.
Stir in the garlic.
Add flour until a thick batter-like consistency is achieved.
Boil water in a large pot.
Push spaetzle through spaetzle maker or colander into boiling water; and simmer for 1-2 minutes.
Strain spaetzle and spread out on a cookie sheet. Lightly oil and allow to cool.
When ready to serve, heat olive oil and saute spaetzle until golden brown.
*Beer choice- preferably a brown ale/lager that isn't too bitter. A continental lager like a Munich Dunkel would be my choice. Though a Bock, Maibock, Oktoberfest, Vienna, or Dark American Lager would work.