Brewers Blackened Chicken and Creole Cream
gailanng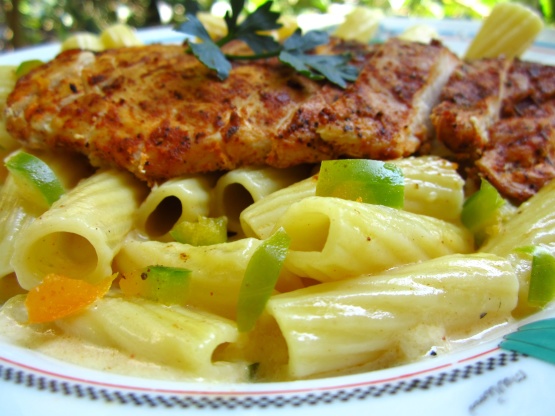 This is the top-selling menu item at Brewer's Downtown Cafe in Milledgeville, Georgia - a smallish town south east of Atlanta.

Now a little message from my husband. Take it away, DH... "You people are like family to me. It's the little things, like a home cooked meal, that make it here uurr...ummm your home. Please accept this meal as a token of our esteem. Remember my door is always open." Made for My 3 Chefs.
In a small bowl, combine salt, thyme, ground red pepper and paprika. Set aside.
Heat 2 tablespoons olive oil in saucepan over medium heat. Add garlic and brown lightly. Add half the dry seasoning mixture, the green onion and chicken stock. Reduce by half (about 2 minutes). Stir in cream and let sauce come to a boil. When it boils, whisk in Parmesan cheese.
Reduce heat and let simmer on low to reduce about 2 to 3 minutes. Add cooked rigatoni and toss to completely coat pasta with sauce.
Brush tops of chicken breasts with 1 tablespoon olive oil. Gently pat with remaining dry seasoning mix.
Place 2 tablespoons olive oil in saute pan over medium heat. When oil is hot, place chicken in pan, seasoned side down, and cook 2 minutes. Turn and cook 2 minutes more. Remove to a cutting board and slice.
Divide rigatoni among pasta bowls. Place chicken strips evenly across each. Garnish with diced red and yellow bell peppers and a sprig of cilantro.