Brewed Orange Cinnamon Coffee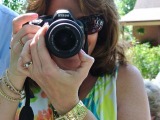 I've had this recipe for at least 8 years. It has always intriqued me but I never got around to trying it. Attended a meeting where we were supposed to share homemade gift ideas and decided to take this as one of mine. I'm so glad I did!! I loved it! It smells wonderful brewing and it made a lightly spiced coffee that was just so comforting. Make sure to use the blender to mix it to help keep it from clumping in the coffee pot and not letting the water run through properly. Response to reviewer's question about using dried orange zest: I suspect it would make the coffee bitter. I have only used fresh & have never received any complaints about bitterness even from people who take theirs black.
Directions
Blend coffee and dry ingredients in a blender.
Blend in flavoring and extracts.
Scrape sides and blend 15 seconds more.
Makes one 8-cup pot.
Add sugar/sweetener and/or creamer as desired.
To give as a gift: Place coffee mix in a filter. Place filter on a square of plastic wrap. Draw together with a ribbon.
Reviews
Most Helpful
Good, aromatic and tasty! Made for Best of Tag, 2010.

Wow - this is great spiced coffee! The best one with orange I have ever tried. I ground my coffee beans with dried, orange oil scented orange peel, vanilla bean and cinnamon and brewed it in a French press pot. As I usually don't sweeten my coffee I'm delighted that it was so flavorful without sweetener or creamer. Thanks for posting! Made for Comfort Cafe Snowqueen's Round 2010.

Wow, easily my favorite coffee drink so far. I love coffee with orange and cinnamon. So I couldn't wait to try this coffee. It was incredible. The coffee was rich, strong and mellow with a hint of orange and cinnamon. Simply to die for. I did garnish my cup with whipped cream and orange rind. Thanks for sharing. Made for Comfort Cafe - SnowQueen Round 01/10 :)
Holiday Central >