Um Safia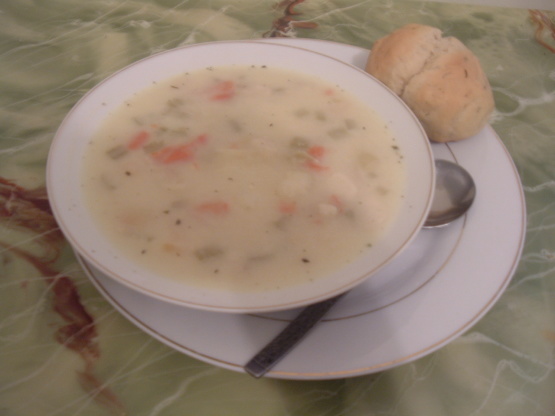 This is a hearty soup with leek, potato and fish chunks. Add some dry white wine at the end for extra flavor.

Reviewd for ZWT3. This soup was definitely hearty though lacked a little flavour. I will be making this again and maybe adding a few extra ingredients to give it nore 'umf' - however having said that, the family polished it off in one go - need I say more!
Wash the leeks thoroughly, and cut the whites only into 1" rounds.
Peel the potatoes, and cut them into chunks to fit a soup spoon.
Skin the tomatoes, and deseed them.
Dice the celery heart into small pieces.
Put the above ingredients into a soup pan with 1 quart of water. Add the salt, pepper, thyme, and bay leaf.
Bring to the boil, then simmer for 25 minutes.
Discard the thyme and the bay leaf.
Clean the fish, skin it and fillet it carefully. Cut into chunks.
Add the fish to the vegetables and broth, and simmer this over very low heat for 15 minutes.
Beat the egg yolk with the cream in a bowl.
Add some of the broth to this, mix it around, and put the whole lot into the soup pan.
Keep over very low heat, and stir until the broth thickens somewhat.
Don't boil it!