ladypit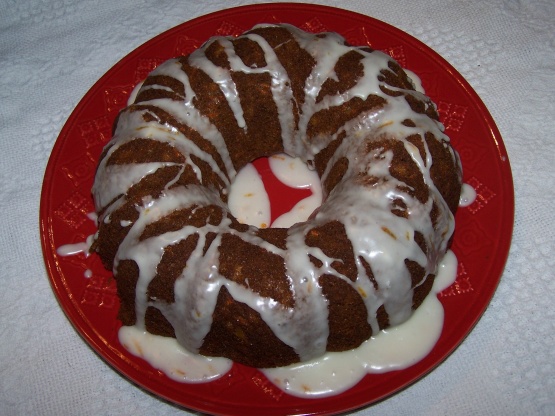 This is another recipe from Eating for IBS by Heather Van Vorous. It's posted in response to a request for low-fat carrot cakes. I haven't tried it myself, but have heard rave reviews about it from others. The sweet orange icing looks like a great touch, although I'm sure it would be great without it or with your own choice of icings, too.
My goodness it is very good! Moist and sweet enough on it's own that is doesn't need any icing. I substituted unsweetened apple sauce for the pineapple, added walnuts for crunch and baked it in an 8X8 pan. With so many changes I won't give it 5 stars.
Preheat oven to 350 F.
Spray a 10-inch non-stick bundt pan with cooking oil and set aside.
Sift the first 7 ingredients (flour to granulated sugar) into a large bowl and stir well to combine.
In a separate large bowl, beat next 7 ingredients (brown sugar to pineapple) with an electric mixer until well combined.
Add the wet ingredients to the dry with just a few swift strokes by hand; do not over-beat or the cake will be tough.
Pour batter into prepared pan and bake for 45-55 minutes, until toothpick or cake tester inserted into center comes out clean.
Cool on rack (in pan) for 10 minutes, then invert onto rack and cool to room temperature.
Top with Sweet Orange Icing (or another icing of your choice).
To make Sweet Orange Icing: Combine all icing ingredients and blend with a fork until smooth.
Use immediately to top cake (if icing sits it will harden).