ImPat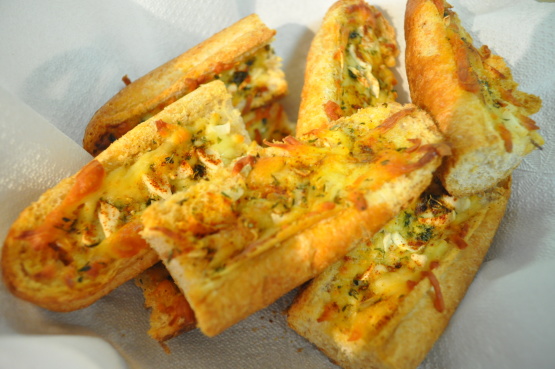 A copycat recipe from southernfoods.about.com from the famous New Orleans restaurant, Brennan's. My family loves this bread. The secret is to rub the outside of the bread with fresh garlic.

Delicious! Please forgive me because I embellished upon the recipe because I had used all the fresh garlic in my spaghetti sauce and meatballs, so I buttered the outside of the bread and then very lightly sprinkled with garlic powder. Also, I added about 1/3C of mozzarella over the parmesan because I've had bread made this way in restaurants and it's wonderful. Thank you for posting a great recipe!.
The secret to this wonderful tasting bread, is rubbing the outside of a loaf of bread with a piece of garlic that has been cut open lengthwise.
Split loaf, and spread the melted butter over the cut sides. Sprinkle on the remaining ingredients. Finely chop the garlic cloves, and sprinkle those on top of the bread.
Bake at 350ºF for about 8 to 10 minutes, or until nice and golden brown.