Brennan's Classic Shrimp Remoulade
IngridH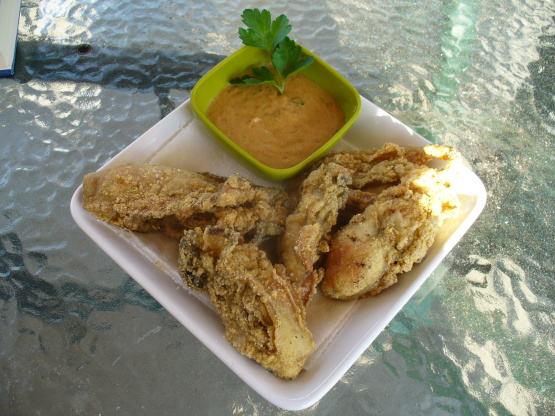 This recipe is from Brennan's of Houston in Your Kitchen cookbook. A great recipe!

Good! I followed the recipe and thought horseradish was a little overpowering probably 'cause I left out celery and parsley (didn't have any). Added 2 more Tbs. of catsup and that balanced the flavors nicely and sauce was delicious. I did add some hot sauce as we like spicy foods. A nice change from cocktail sauce for seafood!
Put ketchup, horseradish, Creole and prepared mustards, vinegar, lemon juice, onion, celery, parsley, garlic, paprika, pepper, salt, Tabasco and egg into blender container or food processor.
Cover and mix at high speed until well blended.
Remove cover and gradually add oil in a slow steady stream.
Sauce will thicken to a pourable, creamy consistency.
Store in covered container in refrigerator up to 3 days.
Serving suggestion: toss boiled shrimp in remoulade sauce.
Spoon onto a bed of thinly sliced cucumbers, radishes and frisee which were drizzled with a simple vinaigrette dressing.