Breanne's Chicken Cacciatore
PaulaG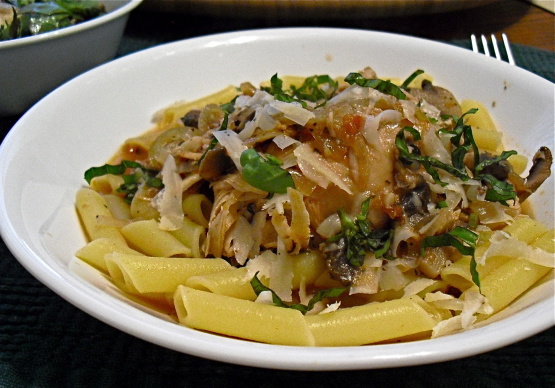 I made this from "Offerings From the Oven" --cookbook I received from my swap partner, BB502. I made using skin-on/bone-in large chicken thighs, using full sauce and seasonings, for 2 thighs. having 3+ hours time in the oven, reminded me of an old "I Hate to Cook Book" recipe, made frequently when we were first married. Chicken is done to falling off the bone, served with penne.

Delicious! I changed the recipe some to put in my crockpot since we were going to be gone in the afternoon. I seasoned chicken thighs with about 1 tsp. of onion powder, garlic powder, oregano, basil and about 1/4 tsp. salt and pepper. I then browned them in a skillet and put them in my crockpot on top of the onions, garlic, mushrooms, and some sliced bell pepper (I needed to use up). Toppped everything with the mixed seasonings, tomatoes, sauce and wine. Fabulous! Next time I will make this as instructed. Thank you for submitting the recipe. Made for New Kids on the Block tag game.
Place sliced onions in bottom of baking dish.
Top with chicken parts.
Add seasonings, tomatoes, sauce, mushrooms, and wine, in that order.
Cover tightly with foil.
bake at 325* for 3 hours.
Discard bay leaf before serving.
Serve with pan sauces over hot cooked pasta.