Breakfast Trout with Bacon
Peter J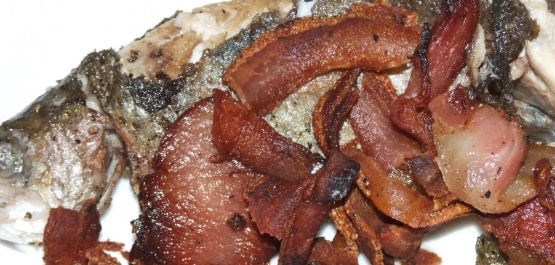 When you're out at the lake in the summer and the men have been early morning fishing, nothing tastes better than this. Yumm!

How about breakfast, lunch and dinner? We have some of the world's best trout here in Tasmania and this was a simple and terrfic way to enjoy it. The bacon made a great garnish while the rest of the process let the natural flavor of the trout shine through!
4

slices thick bacon

4

(8 ounce) trout, cleaned,heads and tails on

1

cup yellow cornmeal
salt & freshly ground black pepper
1⁄3 cup vegetable oil
Fry bacon in a large heavy skillet over medium heat until crisp and golden brown, about 15 minutes.
Drain on paper towels and set aside, reserving bacon fat in pan.
Rinse fish, then dredge in cornmeal and season both sides to taste with salt and pepper.
Add vegetable oil to the bacon fat, then heat pan over medium high heat until oil is hot.
Working in batches if necessary, fry fish in combined fat and oil on one side until skin is golden and crisp, about 5 minutes.
Carefully turn fish over and cook other side for 5 minutes more.
Serve garnished with bacon.