Breakfast Scramble Quesadilla
Bergy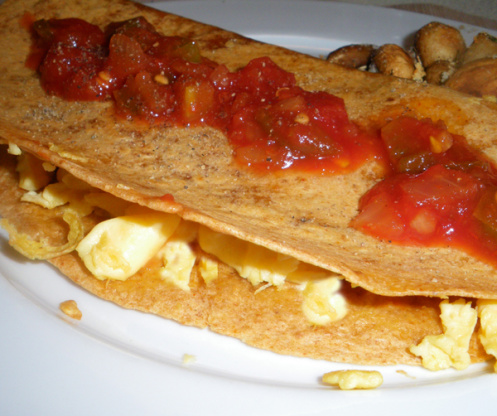 A delicious breakfast for one person...very quick and easy. Use whatever hot sauce you like.
In a small mixing bowl, combine eggs and (regular) Tabasco sauce; add the eggs to a non-stick pan and cook to desired doneness; set aside.
Lightly grill or heat in a skillet one flour tortilla; spread half of Parmesan cheese on grilled tortilla; place scrambled eggs on cheese and sprinkle with remaining cheese on egg; top with the second tortilla and carefully flip the entire quesadilla and cook on the other side until cheese begins to melt.
Sprinkle with Tabasco green sauce and serve.