lets.eat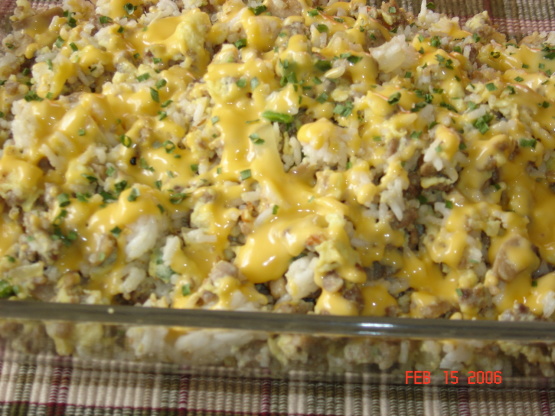 This recipe is posted by request and was found on the net. No name attached. Please let me know how it is. Cook time does not reflect rice cooking time.
Top Review by Tahiti
This was SO good! Di Neal you need to give this a try! the only change I made was to fry up some eggs and serve them on the top, I can't tell you how good this was, I still have some in the kitchen and I have claimed it for my lunch. This is a really easy and delicious breakfast, I should know, I am stuffed!
In a large, heavy skillet saute sausage, green peppers, onions and mushrooms until sausage is crumbled and cooked through, around 10 minutes.
Pour off all but 1 T of the fat.
Add the rice, garlic powder and black pepper, cooking for another 5 minutes, stirring often.
In a small saucepan or microwaveable dish melt the velvetta or cheese whiz with a little milk to make a"just pourable" sauce.
Remove rice skillet from heat, add the cheese sauce and mix well.
The rice mixture should be sticky.
Serve hot.