Breakfast Quesdadillas for 2
Nimz1466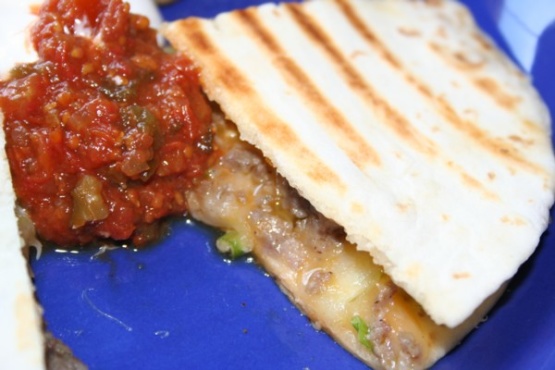 This is one of those recipes that just happened. I had some ground sausage that needed to be used and this was the results.

Very good, we enjoyed these with scrambled eggs for brunch! Our grill was out of gas so I filled the tortillas with the meat and cheese, rolled them, placed in a baking dish and sprinkled with a bit more cheese. Placed in the oven to melt the cheese than topped with salsa and green onions. Thank you Jellyqueen for a wonderful recipe!
Brown the sausage.
Heat grill pan.
Sprinkle 1/2 cup of each of the cheeses on 2 of the tortillas.
Top cheese with the onion and browned sausage.
Place remaining 2 tortillas on top and place on grill pan.
Cook over low heat 2-3 minutes on each side.
Remove from heat and cut into wedges.
Serve with the salsa and sour cream.