lazyme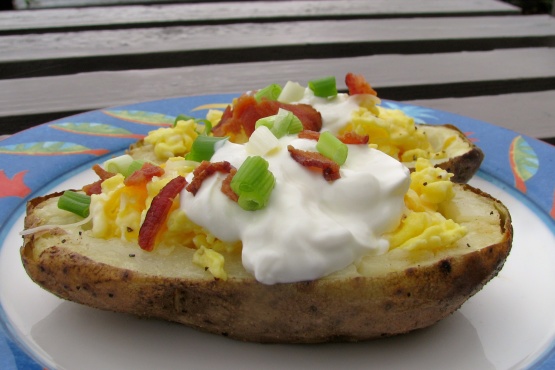 These were my favorite things on the menu of a coffee shop near me that closed long ago. I've yearned for them over the years but have never seen them anywhere else. I finally decided to make them myself, and they came out YUMMY!!!!

These are really great! I baked mine in a traditional oven and seasoned them before wrapping in foil. Then took the "pulp" (chunks) from the baked potato and fried it a bit with the bacon. Filled the skins with the scrambled eggs, the bacon/potato mixture, topped with shredded chedder cheese and used chopped chives over the top but did not add the sour cream at that point. I took half to work and heated it up in the microwave for a "at my desk" breakfast. You can take a small container of sour cream if desired. I also made some with crumbled pork sausage, salsa, eggs, and grated Monterey Jack cheese. I mixed 1/2 of a foil package of taco seasoning mix with 1 cup sour cream to add some extra flavor and kick...These were AWESOME!
Bake potatoes in the microwave for 10 minutes; turn over and bake another 5-8 minutes until baked through (test with a toothpick). Set aside to cool.
Melt butter in skillet over medium heat.
Beat eggs in a bowl; add water; beat a little more. Add eggs to skillet and scramble until done. Set aside.
Once potatoes have cooled enough to be handled, cut them lengthwise and scoop out the pulp, leaving about 1/4 inch layer of pulp in the skins; discard pulp (or save/use for something else).
Place skins upside down (skin side up) on a greased baking sheet.
Combine oil, garlic powder, paprika, salt and pepper in a bowl; brush all over each skin.
Bake at 475 degrees for about 8 minutes; remove baked skins from oven.
Turn the skins over and fill each one with scrambled eggs and sprinkle cheese on top.
Return to oven long enough to melt the cheese, about 1 minute.
Remove from oven and add salsa, sour cream, bacon and green onions, or whatever other toppings you like. (Add the salsa first and then the sour cream so that other toppings will 'stick" to the sour cream.).