Breakfast Pizza from Smitten Kitchen
Nimz1466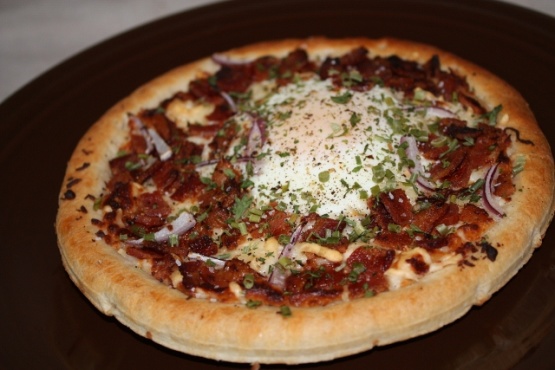 Love this recipe! The original recipe called for a home made crust, but it took so much effort, it really wasn't practical for a fast breakfast. The store bought crust adds so much convenience that now, it's a quick and easy weekend meal, be it for breakfast or dinner.

We really did enjoy this for breakfast this morning, as it has been a while since we have had eggs and bacon. I used the individual prepared pizza crust and chopped red onion and left out the shallots as I didn't have any but other than that and the cooking time, made as directed. I baked mine at 475 and had to cook it a little longer than it have if I had followed your instructions. Mine got a little "toasty". But we sure did enjoy and will make this again. Thanks. Made for Spring PAC 2012
Preheat the oven to 500 degrees 30 mins before you are ready to bake the pizza.
Fry the bacon in a large saute pan over medium heat until crisp. Cool on a paper-towel-lined plate; roughly chop.
Sprinkle the dough with half of the Parmesan, mozzarella and bacon. Make divots in the toppings and crack 3 eggs into the divots and season with salt and pepper.
Bake for 8 to 10 minutes, until the egg yolks are cooked and cheese is melted. Remove from oven and sprinkle parsley, chives, scallions and shallot on top. Let cool for 2 minutes, slice and serve immediately.