Acerast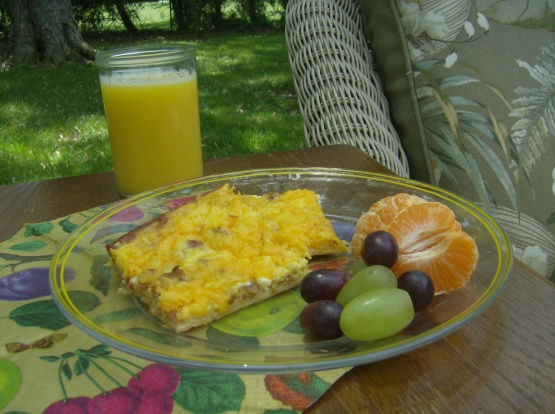 An easy and yummy breakfast. Can be made in a camp box oven.

This was delicious! I halved the ingredients for just 2 of us and it all fit perfectly into a large pie plate. I cut calories and fat by using the reduced fat crescents and cheese, plus used some turkey sausage. It was very filling and we still have some left for tomorrow morning! Thanks for sharing!
Brown sausage in a large skillet, drain. Set aside.
Separate crescent rolls and press into a greased 12-15 inch pizza pan with sides (put points toward center).
Seal seams to form a solid crust.
Par bake crust for 5 minutes.
Spoon sausage over crust.
Sprinkle hash browns and cheese over crust.
Combine eggs, milk ,salt and pepper in a separate bowl. Whisk to combine.
Pour over crust.
Bake in a preheated 375°F oven for 20-30 minutes.