Peter J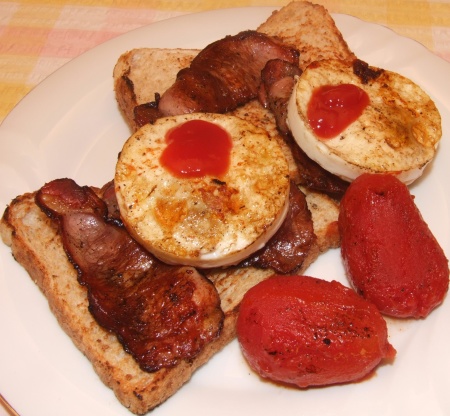 Just because it's breakfast time is no excuse to not have the Barbie fired up! Note you'll need some egg rings as well. A few mushrooms on the side also doesn't go astray.

Top Review by Tisme
The only change I made was to use fresh tomato, so I put that on first.
Wonderful way to cook breakfast, we enjoyed this so much, and the best part of all............. It's not my job to clean the Barbie !!!!!!!!!!!
Thanks Peter for a wonderful recipe and keeping my kitchen cleaner for a while!!!!
Pre-heat lightly oiled plate on barbecue on medium to high temperature with the egg rings placed in a slighter cooler location near the front so they warm up as well.
Cook bacon in middle of plate for around 2-3 minutes and then crack eggs into the egg rings.
Turn bacon as required while the eggs cook.
When bacon is cooked and eggs are starting to turn white on top move the bacon to a cooler section of the barbecue and toast the bread both sides in the bacon fat.
While doing the toast warm through the tomatoes.
Give the eggs a flip when just about to serve and seperate from the rings with a knife.
Transfer everything to a plate for serving with a good dollop of ketchup (tomato sauce in Aus) on top.