Derf2440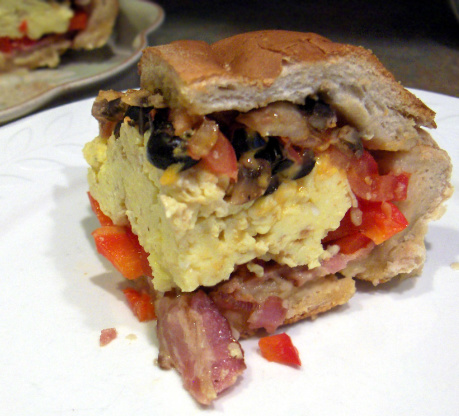 Put the loaf together the night before and wrap it in aluminum foil, then you can just take it from the fridge in the morning and bake it. You may require a little longer baking time if you do it this way

Made this for the Breakfast anytime event, the inside was very tasty. I cooked the bacon before I put it into the shell, if I had put it in raw it never would have cooked in the time specified. I would also suggest that it would be very difficult to cut the loaf into eight slices, it was difficult to cut and I just cut it into four, the crust was quite tough both top and bottom. I used a sourdough round loaf and followed the instructions other than the cooking of the bacon. Sorry but I would not make this again which is too bad because the flavour of the inside ingredients was very good.
Preheat oven to 350 degrees.
Slice the top off of the bread loaf; set aside for lid.
Remove interior of the loaf, leaving 1" on all sides and bottom.
Layer the following inside the loaf: bacon, red pepper, eggs, sprinkled with Parmesan cheese, black olives, tomato, cheese, and mushrooms.
Replace the lid and wrap the entire loaf in aluminum foil.
Place on a cookie sheet.
Bake about 30 minutes or until heated throughout.
Cut into 8 wedges.