ImPat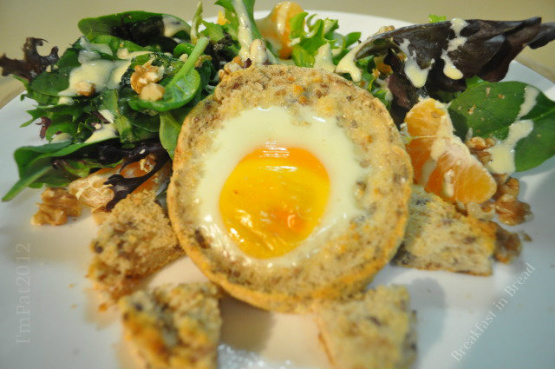 This is so yummy, not to mention pretty! Adapted from Better Homes & Gardens magazine. A European recipe(English and French), also much enjoyed in the Northeast!

Top Review by ImPat
This made for a very delicious light dinner. I used wholemeal/wholegrain muffins but to get that toasty look I did end up overcooking my egg to my liking but it suited DM down to the ground, so when making again I will lightly toast the muffins first for a little colour and then procede with the recipe. I made the dressing as 1 serve which I found was plenty for me and I really enjoyed the dressing and will definately be making that more, also since I didn't have a fresh orange I used mandarine segments which added a nice sweetness to the salad that worked well with the dressing, the fresh lettuce leaves and the crunch of the toasted walnuts. Thank you Sharon123, made for Newest ZAAR Stars tag game.
Preheat your oven to 400*F.
Place split English muffin halves in a greased 13"x9" baking pan. Use a 1 1/2" to 2" cutter to cut a hole in the center of each muffin half. Place the cutouts next to muffins in baking pan. Crack open eggs and carefully put one egg in the center of each muffin hole. Move pan to preheated oven. Bake for 12 t 15 minutes or until eggs are just set.
Meanwhile, for dressing:.
In a small bowl whisk together the orange juice, vinegar, sugar, if using, olive oil, mustard, salt, and pepper. Gradually whisk in sour cream. Divide mesclun among four dinner plates. Place 1 egg filled muffin half atop greens. Cut remainig rounds from muffin halves into wedges and sprinkle around eggs. Drizzle with the dressing. Add walnuts and orange wedges. Enjoy!
Note:.
To toast walnuts, place them in a shallow baking pan. Bake in a preheated 350*F. oven for 5 to 7 minutes, shaking the pan once or twice.
Makes 4 servings.