berry271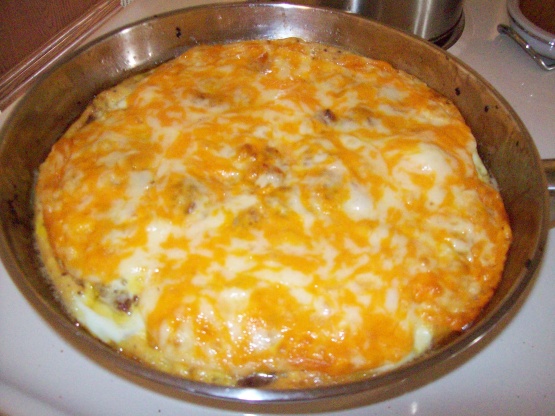 This is one of my favorite recipes for breakfast. It's easy and filling and tastes so good. I love the pepper jack cheese instead of cheddar for a change of pace, but if you don't like pepper jack, you can always use cheddar.

Made for supper tonight as I was looking for something high protein/low carb to eat before my one hour Glucose Tolerance Test. Very tasty and it seems like you could vary it a lot. I added salt and used yellow instead of green peppers. I thought about adding tomatoes, but wasn't sure if my husband would go for it then. I might try that in the future, maybe mushrooms too. I kept the eggs in the skillet and baked it in the oven that was, as I always kind of thought that was the point of a frittata. Transferring it to a baking dish kind of turns it into a casserole, in my opinion. Either way, I enjoyed it. Thanks
Preheat the oven to 350°F.
Scramble the sausage, onions and peppers. Cook until the sausage is no longer pink and the vegetables are soft.
Drain off all the grease and place in a 9x9 oven-safe casserole. Beat the eggs and pepper and stir in the cheese.
Spread the meat mixture evenly and pour the egg mixture over the meat.
Bake 25-30 minutes or until the eggs are mostly firm, but still soft in the center.