lets.eat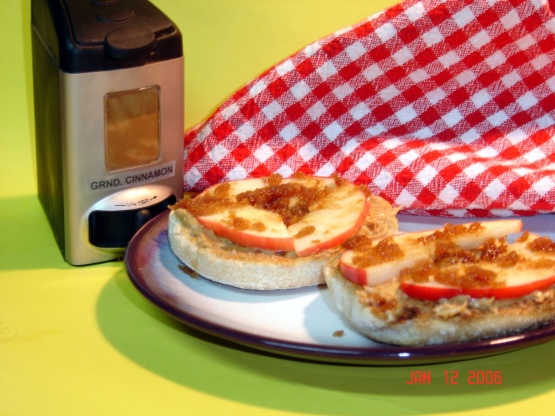 This is one of the best breakfasts I have had; I even eat them for a snack. Even if you don't care for peanut butter that much you might LOVE these!

My family enjoyed this. Went with Pink Lady apples, store was out of Gala. The only problem I had was that my brown sugar/margarine wasn't pourable and trying to make a batch of these the mixture hardened very quickly. Next time I will dice the apples instead to make it easier for my DS's to eat. Thank You-
Toast English muffins; meanwhile heat brown sugar, butter and cinnamon together for a few seconds in microwave or until completely melted.
Stir.
Spread peanut butter on muffins and then top with apple slices.
Spread sugar mixture on top of apple slices.
Enjoy.
You can sprinkle a little lemon juice on the half of apple that you don't use and keep in the fridge until next use.