CoffeeB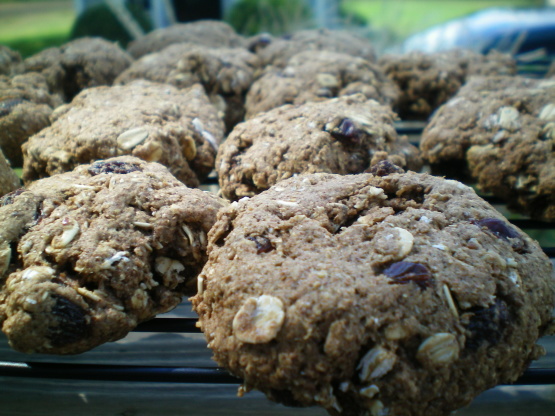 These truly are cookies for breakfast! Low in fat and high in protein, they are a perfect choice to grab on the run.

Great for an easy, quick, to-go breakfast or anytime for a healthy snack. Had no pureed prunes as written so blended some whole pitted prunes with applesauce as a substitute - maybe cheaper too. Cut the brown sugar in half as I do for most cookies and they were fine for my taste. Used a small saucepan to flatten cookies, wetting the bottom as needed. Thanks for posting.
Preheat oven to 325°F.
Mix all ingredients together.
Drop by 1/4 cup measuring cup or large ice cream scoop on a baking sheet, about 2 inches apart.
Flatten to 1/2-inch tall with DAMP hands.
The cookies do not flatten much while baking.
Oven temperature is 350*.
Bake 8 minutes for chewy cookies, 10 minutes for dry cookies (chewy is best!).
Cool.
*I use 4 or 5 boxes of pureed baby prunes.