PaulaG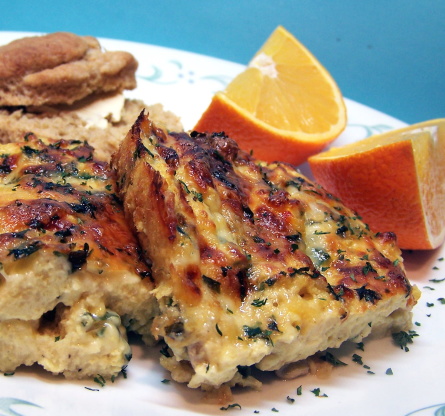 This breakfast casserole can be made the night ahead, refrigerated and cooked in the morning for a no-stress breakfast. Recipe source: Bon Appetit (April 1984)
Top Review by PaulaG
I reduced the recipe to make 2 generous servings. I prepared it last night, covered, put in the fridge and then allowed it to come to room temperature this morning. It made a nice breakfast and would be great when you have guests to mix up and pop into the oven for breakfast.
Preheat oven to 400-degrees F.
Butter a 6-cup baking dish and set aside.
In a food processor process bread to make crumbs and then transfer crumbs to a small bowl. Add milk to crumbs in bowl and let soak for 5 minutes.
Chop green onions in food processor or by hand.
In a skillet over medium high heat melt butter and add green onions and mushrooms, cooking until soft (5 minutes). Set aside but leave mixture in skillet.
Using a food processor chop cheese with cilantro and parsley and then transfer to a second small bowl.
In a large bowl blend eggs, bread crumb mixture, salt and pepper and then stir in water.
Return skillet (with green onion mixture) to stove over medium heat. Add egg mixture to skillet, stirring until soft but not set (5 minutes).
Spread half of the egg mixture into prepared dish, sprinkling with half of the cheese mixture. Repeat with remaining egg mixture and cheese. ***Can be refrigerated at this point covered and refrigerated for up to 12 hours.Bring to room temperature before proceeding***.
Bake in preheated oven for 18-20 minutes or until light brown and puffy.