BarbryT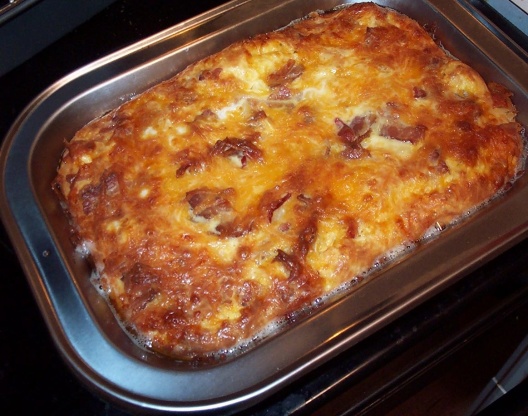 I love this recipe!!! It's so easy to make!!! I usually don't like my food mixed together but this is awesome.

WOW! I made this casserole one morning because I wanted something a little different for breakfast and my daughter and I LOVED it! I craved this casserole a few days later and made it again. I'm not too fond of eggs, but this didn't bother me one bit. I did however, cook my hashbrowns a little bit until they were a light golden color, added some chopped onion and bell peppers to it, and I sprinkled some green onions over the top once it came from the oven and it really brought out the flavor of this dish. It kinda tastes like a potato skin, imagine having potato skins for breakfast? This recipe is a true keeper and winner! I will be making this regularly. Thanks.
Squeeze excess moisture from potatoes.
Mix potatoes and melted butter.
Press into 13X9 baking pan, coated with cooking spray. Bake at 425°F for 25 minutes.
Remove from oven.
Sprinkle bacon or ham and cheese over potatoes.
Beat together eggs & milk.
Pour egg mixture over meat & cheese.
Bake an additional 30 minutes or until set.