diner524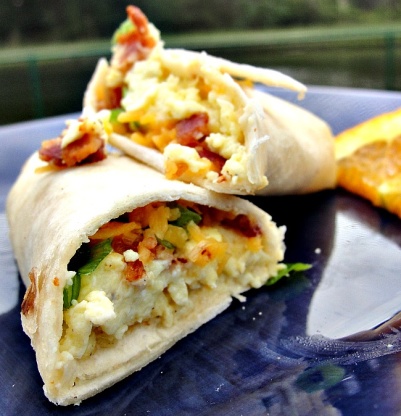 Good to freeze and microwave later, when you are pressed for time. Recipe adapted from a Taste of Home cookbook.
Can't go wrong with this recipe for making quick hearty breakfasts on the go!!! I made mine for eating right away so didn't need to thaw/heat. I made a scaled back recipe to serve one. Next time I might even pan fry the tortilla to better melt the cheese and get a crispy coating (I love crunchy taco/chimichangas) but I know my kids would want the soft burrito!! Could see adding other veggies/cheeses and even different meat for these wonderful burritos!! Thanks for sharing the recipe. Made for Fall PAC 2012.
In a large skillet, cook bacon until crisp, place cooked bacon on paper towels to drain.
Reserve 1-2 tablespoons bacon drippings and discard the rest.
Add eggs, salt and pepper to drippings, cook and stir over medium heat until the eggs are completely set.
Spoon about 1/4 cup of egg mixture down the center of each tortilla, sprinkle with cheese, onions and cooked diced bacon.
Fold bottom and sides of each tortilla over filling.
Wrap each burrito in waxed paper and aluminum foil.
May freeze for up to 1 month.
To use frozen burritos:
Remove foil. Place burritos on a microwave safe plate. Microwave at 60% power for 1 to 2 minutes or until heated through. Allow to sit for 20 seconds before eating.