lazyme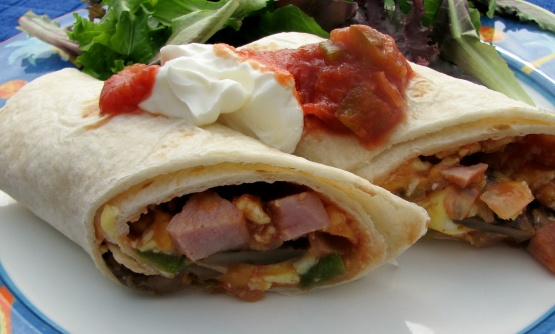 These are great to have in the freezer when you don't have time to make a real breakfast in the morning. Try substituting other breakfast meats (ham, bacon, turkey sausage) to suit your personal preference.

Great tasty breakfast burritos! Mine were actually tacos as I used the smaller sized whole wheat tortillas. I don't care for onion so left it out. These made a great quick "breakfast-for-dinner" meal - thanks for sharing the recipe!
Scramble eggs, cooking to a dry consistancy. Cool and put in a mixing bowl.
Brown sausage, drain fat and cool. Add to the eggs.
Saute vegetables until they have released their liquid and it has evaporated. Cool, add to egg mixture.
Add the salsa and cheese, mix to combine.
Heat tortillas briefly to soften. Scoop 1/3-1/2 cup of filling into each tortilla and roll up.
Place each burrito in a zip-top sandwich bag and seal, squeezing out all air. Place burritos in a freezer safe container and freeze.
To reheat, remove frozen burrito from the sandwich bag, place on a microwave safe plate, and cook on full power until heated through, 1 - 1 1/2 minutes.