Breakfast Burrito (Like Mc Donald's!)
AmyMCGS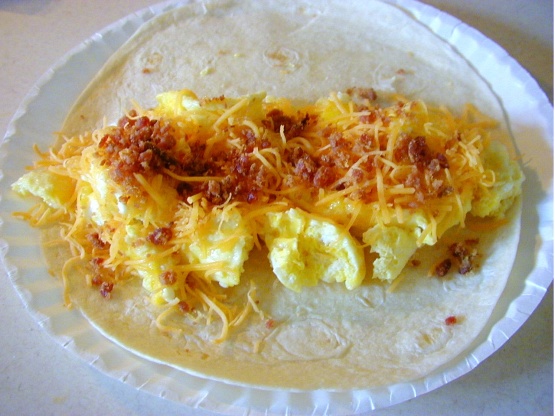 This is a really fun, quick, healthy, and easy breakfast, that is sure to delight the taste buds of anyone! I was making eggs one day, saw that I had tortillas, and cheese and bacon bits and I thought "A good breakfast burrito would be nice!" I put all of the stuff together, and BAM! an instant success!

Excellent! My husband loved this dish! It was fantastic! Thanks for posting.
First, put your tortilla on a plate.
Next, scramble the two eggs.
Then, put the eggs in the tortilla, and spread the bacon bits around evenly.
Now, put as much shredded cheddar cheese as you want on the egg.
Microwave for 15-25 seconds (just enough to warm the egg, bacon, and tortilla, and to melt the cheese.) Take it out and fold the tortilla like a burrito!
Lastly, EAT!
Hope you enjoy!