Breakfast Bulgur With Pears
MsSally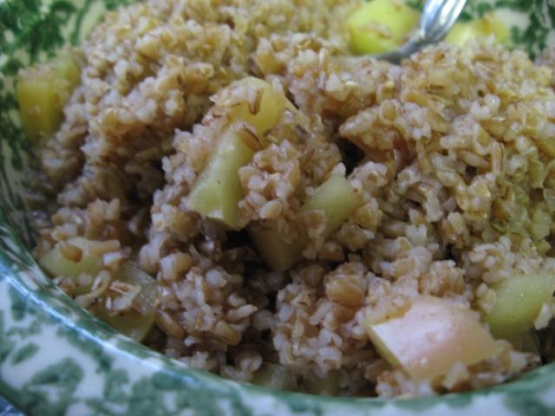 Though I do love my morning bowl of oatmeal, there are days when I want to have something different. This promises all the benefits of a grain based breakfast with a twist in flavor. Found this untried recipe in an old stack of recipes clippings and posting it before I loose track of it again.

This was very good. With Toni's permission I used apple and apple juice insted of pear. The flavor was wonderful. The only thing I might had done differently is to add just a little bit of butter. I forgot the yogurt. But this was a great change of pace from plain old oatmeal.
Place the bulgur, pear nectar, 1 cup of water, bulgur, cinnamon nutmeg and salt into a medium saucepan and bring to a boil.
Add the diced pears, mix, and cover pan. Reduce heat to a very low flame and simmer until liquid is absorbed and bulgur is tender, about 12-15 minutes.
Spoon into 4 bowls and top each with 2 tablespoons vanilla yogurt.