Swirling F.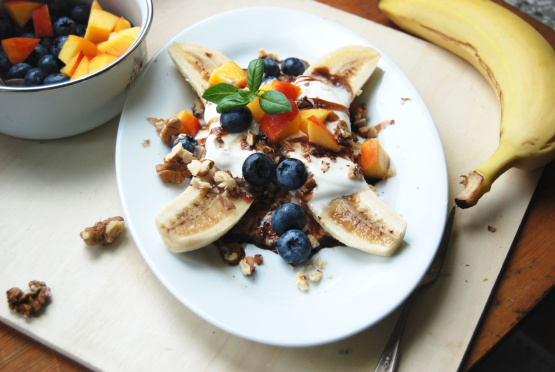 This is from the Teton Tree House in Jackson, Wyoming. A treat any way you look at it!

Top Review by ImPat
I made this as dessert for the DM and DS and decorated with some chopped pecans but it wasn't till I went to post the review that I realized I forgot to pour some of recipe #466271 over the dessert but as it was it was thoroughly enjoyed, thank you Sharon123, made for Everyday A Holiday tag team.
Select smaller, ripe bananas. Cut off one inch, and then slice the banana in half and place on a salad plate curving away from one another and outward. Slice the small piece and place on either side of the curved pieces.
Spoon whipped yogurt across the top of bananas. Dribble slightly diluted jam on top of yogurt. Sprinkle nuts on top, if desired. Offer chocolate or fudge sauce. Enjoy!