Parsley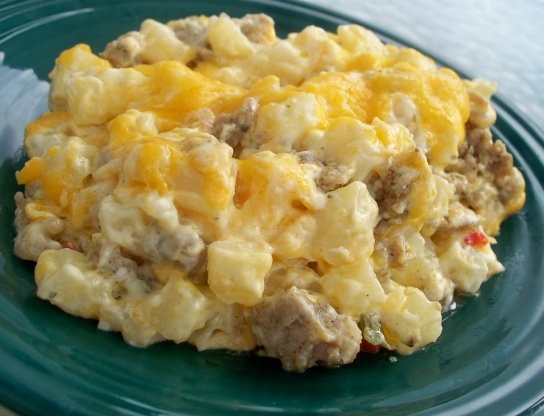 One of my boys isn't so fond of eggs so when I found this casserole didn't use any, we had to give it a try. It makes quite a bit for our family of four, but was wonderful heated up for quick and easy breakfast during the week.

All of the ingredients here were things I would like. After the reviews posted I was excited to make it. After the lengthy preparation and cooking time we were very disappointed in the results. The flavours simply did not meld. It was only barely edible to adults and there was no desire for seconds. My son refused to eat it at all and it went in the garbage. A sad waste of food.
Cook sausage in large skillet over medium heat until no longer pink.
Add chopped onion and peppers and cook until vegetables are tender, about 5 minutes. Drain on paper towels.
Combine 1 3/4 cups cheese and next 4 ingredients in large bowl.
Fold in potatoes.
Spread half of the potato mixture in a shallow 3-quart baking dish.
Top with sausage mixture.
Top with remaining potato mixture.
Sprinkle with remaining cheese.
Cover and bake at 350 for 45 minutes.
Uncover, bake 10 more minutes, or until heated through.