Breakfast Bagel Sandwiches (Oamc)
Ashley Cuoco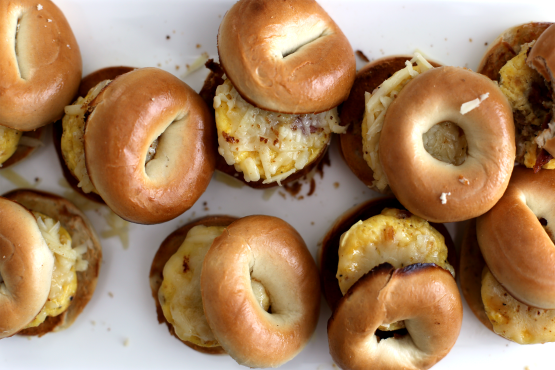 While searching for a great make ahead breakfast I tried this and it worked great! Hope you enjoy it too :)

These are a life-saver! I am really enjoying making meals ahead of time and freezing them. The whole family enjoyed these. Sometimes I use bagels, sometimes english muffins, and sometimes I use canned biscuit dough. HOWEVER... I found a way to make the egg preparation easier. I have a 17" x 11" jelly roll pan. I take the eggs, beat them well and add salt & pepper (and some baking powder -- thanks to Kittencal -- this make the eggs puff up like crazy) and I add a splash of milk. I then pour this egg mixture into my "well-greased" jelly roll pan. I bake the eggs at 350 degrees until almost set. Then I sprinkle them with shredded cheese (cheddar) and cooked ham that I have shredded finely in my food processor. I bake this all until set. Then I remove it from the oven and let it cool a bit. I measure (depending on the number of muffins or bagels I've used) and cut the egg mixture into equal squares. Then I put a square of egg mixture onto the bagle or muffin and it's done. The meat and cheese are already incorporated into the eggs. Couldn't be easier!! You can also sprinkle cooked bacon on the eggs at the end or even the bacon bits that come in the bag. These squares of eggs are wonderful. It eliminates cooking eggs individually or using scrambled eggs (because they fall off the sandwich). Just wanted to pass this along to all you wonderful OAM Cooks. Thanks for all the inspiration and I hope you like my little egg trick.
Slice each bagel in half.
Lightly butter each side.
To cook eggs, lightly grease a mug or small bowl or ramekin; beat eggs in that bowl and microwave 30 seconds; remove egg in one piece and repeat for remaining eggs. Or take Swan Valley Tammi's idea and pre-cook the bacon, chop it up and add it to the eggs. Pour into greased muffin tins. Bake at 400 degrees Fahrenheit for 12 minutes so all 12 egg/bacon 'patties' are done at the same time.
On the bottom half of the bagel place cooked egg.
Top each egg with approximately 1 Tablespoon grated cheese.
Stack bacon on top.
Complete sandwich with top of bagel.
Cool slightly; wrap in plastic wrap individually; place in a large labeled zipper freezer bag.
To serve, remove 1 bagel sandwich from bag and remove wrapping.
Place upside down in microwave and heat for 30 seconds.
Place right side up and microwave for 30 seconds more or until heated through. **Time may vary in your microwave**.
Eat warm.