Breaded Pork Cutlets With Honey Dijon Mustard
Derf2440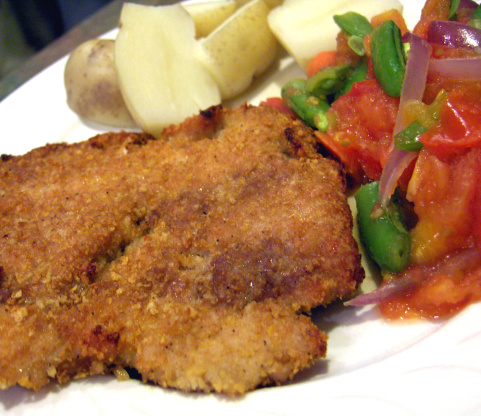 No one will know that this is lowfat unless you tell them. Also great if you make extra mustard and honey mixture and serve with the pork. My adaptation of a recipe from "Reader's Digest."
Slice the pork into 1/4 inch thick slices.
Place pork between sheets of waxed paper and pound thin.
Combine the Dijon or spicy brown mustard with the honey.
Using a pastry brush spread the mustard mixture on both sides of each pork slice.
Mix the egg white with the water in a bowl.
Dip the pork in the egg, then in the bread crumbs to coat both sides.
Lightly coat a heavy 12-inch skillet with the cooking spray and set over moderate heat for 30 seconds. Add 1 tablespoon oil and heat.
Add the pork and cook until crisp and lightly browned.
Garnish with the lemon wedges and serve.