Breaded Onion-Stuffed Steak Kabobs (Spiedini)
CabinKat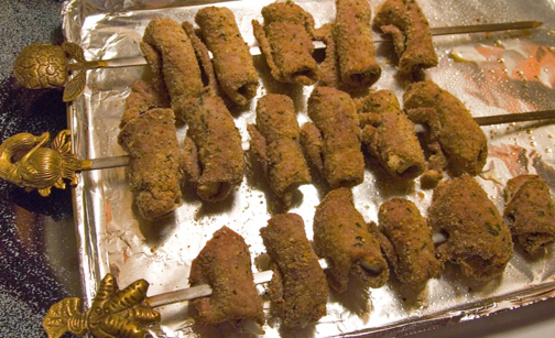 This is one of those recipes that work really well with any kind of side dish and is very "tweakable". Quick to cook and easy to put together and even my kids like it. I found this in Penzeys Spices about two years ago and have made it about a dozen or so times since. It always turns out perfect each time.

I didn't make them but purchased them at the grocery store. Really good, but the ones I got were stuffed with sliced onion and cheese.
2

lbs thinly sliced round steaks

1 -2

large onion, wedged (I've always used Vidalia)
1 3⁄4-2 cups plain breadcrumbs or 1 3⁄4-2 cups seasoned dry bread crumbs
2⁄3 cup grated dry parmesan cheese, I do not recommend fresh, needs to be fine

3

tablespoons dried basil

1

teaspoon salt
1⁄2 teaspoon black pepper
3⁄4 teaspoon garlic powder

4

skewers
Place flat rack in oven closest to broiler and preheat to 375º on broil.
Bring out cookie sheet and spray a bit of Pam on for ease of cleanup.
Cut steaks into smaller wrapable pieces if too big to wrap onion wedges inches The normal size should be about 2 bite-sized when wrapped.
Blend all spices and cheese together on a dipable plate.
Brush steak slices with olive oil (both sides) and dip in seasoning.
Wrap around preferred amount of onion wedges. Place meat on skewer and additional onion wedges in between meat pieces if desired. Be sure to leave a tad of space between meat pieces.
Place all on cookie sheet and place in oven, top rack to broil. Broil 5 minutes on one side, flip over and broil an additional 3-4 minutes on the other. Serve with your favorite steak sauce or ketchup.