Breaded Italian Green Beans
Saturn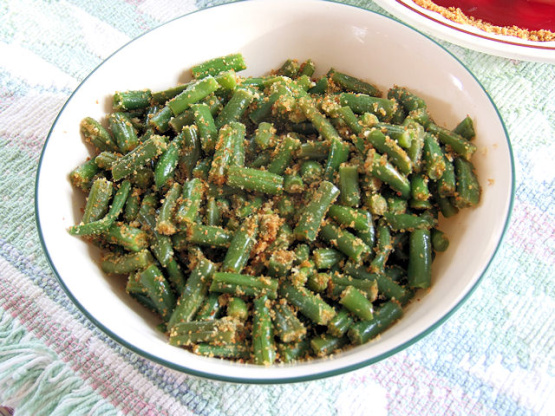 A super-fast side dish using canned green beans for a cook in a hurry. My kids request these over and over. My sister-in-laws originally made this and I've adapted my own quick version.

Tasty and simple. I used fresh green beans from Trader Joes that came in a microwaveable bag. I microwaved them, then added them to a pot with the rest of the recipe ingredients, as directed. I grated in some fresh Parmesan cheese at the end of the heating time too. Very nice; will make again!
2

(15 ounce) cans cut green beans or 2 (15 ounce) cans green beans

2 -3

cloves garlic
1⁄4 cup Italian style breadcrumbs
Open and drain liquid from the green beans and put in a non-stick frying pan.
Peel garlic cloves and put them through a garlic press into the pan.
Place the butter or margarine in pan and sautee together on medium heat for 10 minutes.
Turn off heat and toss green beans with the bread crumbs until coated.
Place in serving dish and enjoy!