Breaded Fried Cube Steak and Milk Gravy
nankamo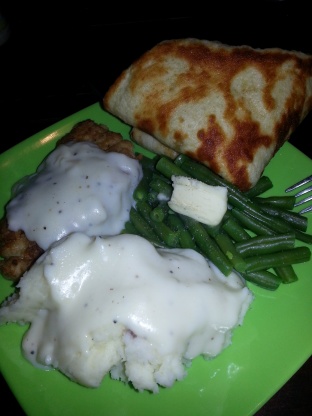 Great country recipe my father passed down to me. Very tasty, the whole family loves!!

Top Review by RedJim
Made this entree tonight. Instead of Season-All, which I didn't have, I used Old Bay. Everything else was as you directed. The cube steak was fall-apart tender! Very nice meal. Thank you.
In a bowl beat milk with eggs.
In another bowl mix flour, salt and pepper.
Dip steak in milk and egg mixture.
Then dip in flour mixture.
Coat steak well with flour mixture.
Heat oil in skillet (not too hot).
Add steak to skillet and cook til brown.
Remove to plate with paper towel.
Milk Gravy.
Melt butter in saucepan.
Add flour and stir well.
Add milk and stir until bubbly.
Add salt and pepper to taste.
Gravy will thicken as it boils.
Serve over steak and mashed potatoes.