Breaded Chicken With Avocado
GeeWhiz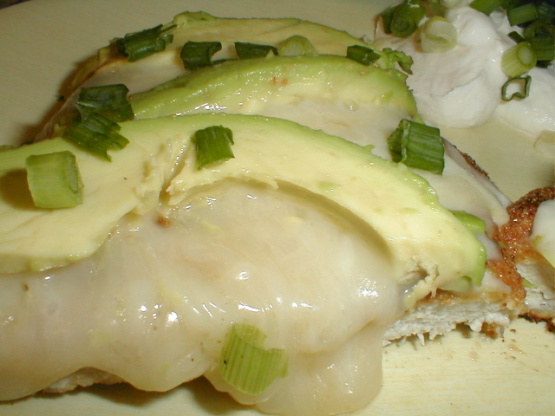 Tasty and simple to prepare; the toppings and cheese add a richness to the flavorful crunchy coated chicken.
In a large, resealable plastic bag, combine the cornmeal, cornstarch, garlic salt and cumin.
In a shallow bowl, beat the eggs and water.
Flatten chicken to approximately 1/4-inch thickness.
Dip into egg mixture, then place in the bag and shake to coat.
In a large skillet, heat the oil.
Cook chicken for 4 minutes on each side.
Top each piece of chicken with 1/4 cup cheese and 3 slices of avocado.
Cover and cook until chicken juices run clear and cheese is melted.
Garnish with sour cream and green onions.