ImPat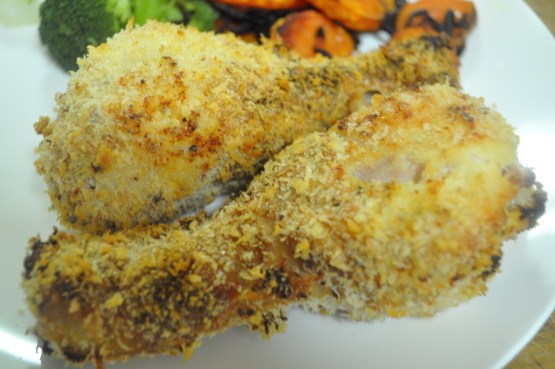 A nice, flavorful, breaded chicken that is oven baked and not fried. Note: Time does not include marinating.

Top Review by ImPat
I was a little hesitant about using panko crumbs as our first and last try with them was not successful and we didn't enjoy the taste but though these ones looked different to the first ones we tried (a lot finer) and they turned out great so nice and crunchy. As we are not fans of horseradish I used 1/2 cup of Greek Yoghurt to which I added a tablespoon of grainy mustard for flavour and proceded as per recipe up to the point of cooking and sprayed the rack of the baking tray and placed the crumbed drumsticks on the rack and then sprayed the drumsticks with olive oil spray (cutting fat down dramatically) though that said it wasn't until I had put them in the yoghurt mix I realised I had forgotten to remove the skin but in a 225C fan forced oven the 6 drumsticks were cooked to perfection after 40 minutes. Also for my 6 drumsticks 1 cup of panko crumbs was plenty (could possibly get away with 3/4 of a cup). Thank you Chef Buggsy Mate, made for Aussie/Kiwi Recipe Swap #55 August 2011.
In a large bowl, whisk together, horseradish sauce and yogurt.
Add the chicken, turning to coat, and let stand at room temperature for 30 minutes (or cover and refrigerate for up to 12 hours).
Position a rack in the upper third of the oven and preheat to 400 degrees.
Line a baking sheet with parchment and grease with 2 Tbs. olive oil.
In a large bowl, toss together the panko, salt and pepper.
Working with 1 chicken piece at a time, coat in the panko mixture and transfer to the prepared baking sheet.
Drizzle with the remaining 2 Tbs. olive oil, then bake until golden and cooked through, about 40 minutes.