Breaded Chicken Fingers, Strips, Tenders...
gailanng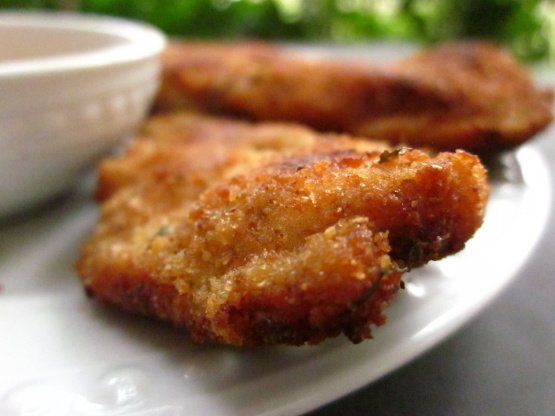 The BEST fried chicken me and my husband have EVER eaten! This is now the ONLY way I make fried chicken tenders
Put the flour, eggs and the bread crumbs each separately in 3 shallow dishes. Stir into the flour the lemon zest. Pat the chicken dry and season both sides with garlic powder, salt and pepper. Dip each breast into the flour, then shake off the excess. Next, run the breast through the egg to coat it lightly and hold the chicken over the liquid to let any excess drip back into the bowl. Finally, lay the strips in the bread crumbs, turn it over and press into the breading to coat. Lay on a piece of waxed paper. Repeat until all strips are coated.
Add the oil to a large skillet (12 inches in diameter and cast iron is best) over medium heat until hot. Lay several chicken strips in the pan. Cook the chicken without turning until nicely browned, about 3-4 minutes. Turn the chicken and cook until equally brown on the other side, about 3-4 minutes more. Repeat with the remaining strips. Transfer chicken to a paper towel lined plate to drain.