Pam-I-Am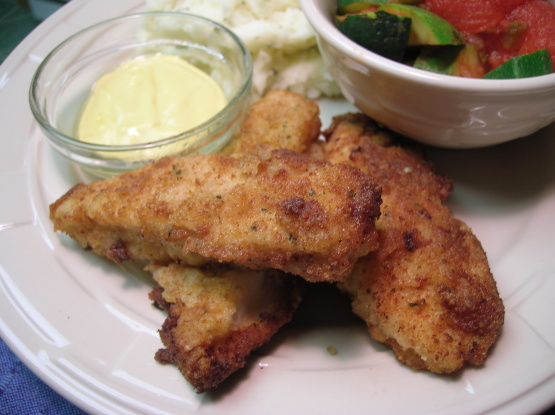 Easy to make, but takes time to marinate. If you like garlic, you will like this. Being a former West Virginia girl, I like this with pinto beans, greens and a side of cornbread.

EXCELLENT !!! I omitted the salt, but other than that what a great recipe. It made for a easy, quick dinner. The marinade was freat . Made for Holiday tag.
Place chicken strips into a large, resealable plastic bag. In a small bowl, mix the egg, buttermilk and garlic powder. Pour mixture into bag with chicken. Seal and refrigerate 2 to 4 hours.
In another large, resealable plastic bag, mix together the flour, bread crumbs, salt and baking powder. Remove chicken from refrigerator, drain, discarding buttermilk mixture. Place chicken in flour mixture bag. Seal and shake to coat.
Heat oil in a large, heavy skillet to 375 degrees.
Carefully place coated chicken in hot oil. Fry until golden brown and juices run clear.
Drain on paper towels.