Breaded Chicken Breasts With Cheese
2Bleu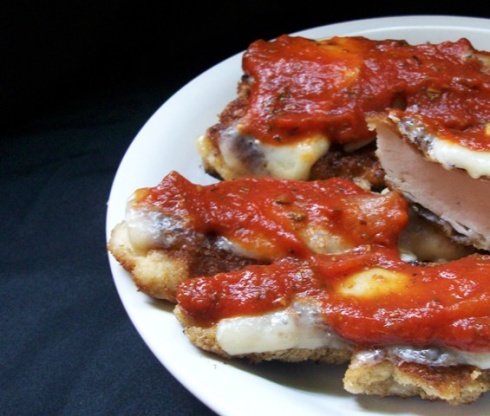 From Pol Martin's cookbook, Easy Cooking for Today. He is one of Canada's premier cooks.

I wasn't certain what "seasoned flour" meant so I added a generous helping of garlic powder, onion powder and McCormick Salt-Free Chicken grill seasoning to the flour. I also added a little Emeril's Italian Seasoning to the breadcrumbs. Gruyere seemed a bit strong for our tastes so I went plain ole mozzarella. For the tomato sauce I used Bertolli Premium Summer Crushed Tomato & Basil Pasta Sauce in the bag. Loved it loved it loved it!!! Sort of a chicken parm without all the fuss!!! Pure perfection! Made for the Auzzie/NZ Recipe Swap #25.
Preheat oven to 400 degrees farenheit (200 degrees celcius).
Dredge chicken with flour. Dip into beaten eggs. Coat with breadcrumbs.
Heat oil in frying pan. When it reaches medium-high heat, add chicken breasts and cook 4 minutes.
Flip chicken breasts over and cook an additional 4 minutes.
Place chicken in ovenproof dish and cook 5 minutes in pre-heated oven.
Remove chicken from oven and cover each breast with a slice of cheese.
Return chicken to oven and bake 5 more minutes.
Season tomato sauce if necessary and serve with chicken.